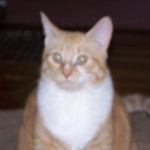 We live with a spunky little orange and white tabby cat named Maisie. She appointed herself Queen of the House several years ago and hasn't relinquished her crown yet. Her reign extends to our three young granddaughters, who gravitated to her as soon as they became aware of her existence.
Our vet diagnosed kidney disease a couple of years ago. Those of you familiar with cats know that kidney failure is the major cause of death among felines. We were devastated but determined to carry on with whatever therapy necessary to keep her comfortable — and with us — as long as possible.
Maisie defied expectations and rallied back to her former bossy boots self. Until about a month ago. Her kidneys are failing her, but she and we are fighting back. This means daily subcutaneous fluids, potassium supplementation, antacids, appetite stimulants. It sounds like a lot, but experts in chronic renal failure say that cats can and do put up with a lot.
We do this out of a deep love for Maisie but also with the understanding that her quality of life will have a lot to do with how long we continue her therapy. So far, she still enjoys spying on the neighbors from the dining room window seat and behaving like a naughty little girl in my office. She loves jumping where she shouldn't.
This is a rough time for my husband and me. Knowing when to let go is never easy, and each time one of our dogs or cats reaches that point we are reminded of how fragile and short life can be.