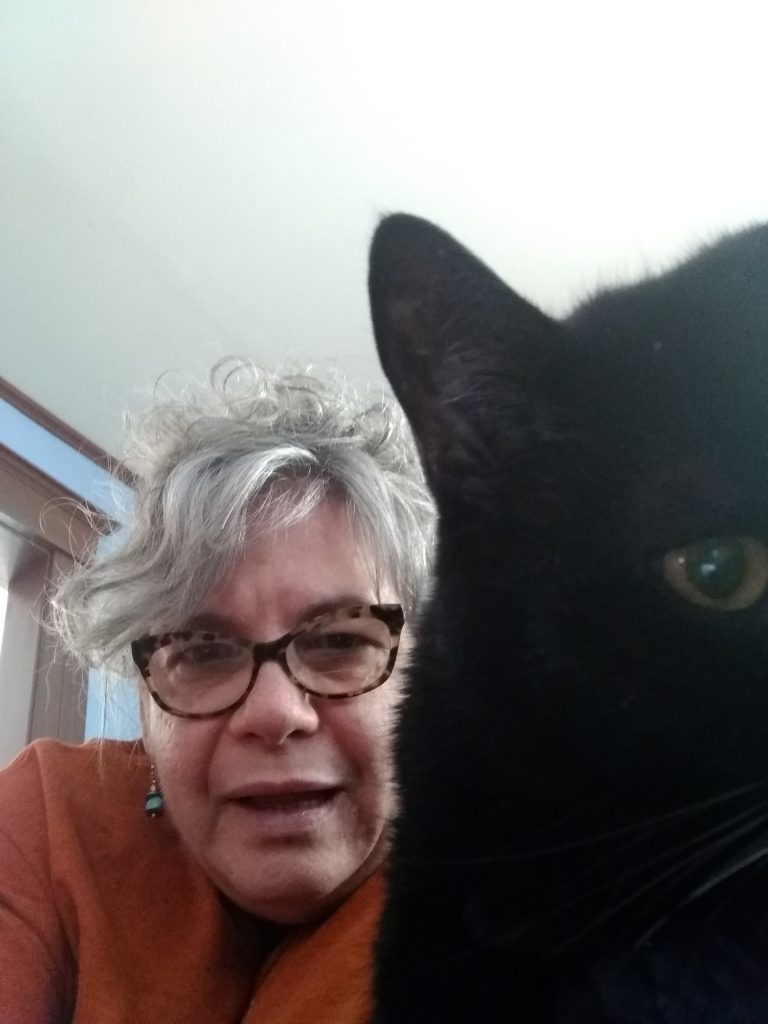 I was born and raised in western New York State; in fact, my husband and I still live here and raised our family here. I earned a political science degree from the State University of New York, Empire State College, and worked in the legal profession for over twenty years before deciding to switch gears and pursue a writing career. During that time, my husband and I opened up our hearts and our home to numerous cats and dogs. At the same time I began my writing career my kids started families of their own, and I saw an opportunity to introduce my grandchildren and other young, emerging readers to the wonderful world of animals and encourage a love of reading by creating animal-themed stories for them to enjoy.
My first picture book, There's a Dog On The Dining Room Table, which I wrote to honor the memory of our beloved Shiba Inu dog Barney (who really did jump onto our dining room table), was published by Xist Publishing in September, 2014. Xist released my second picture book, If a Dog Could Wear a Hat, on May 31, 2018. That story describes the antics of our dog Simon, a mischievous Jack Russell Terrier/Chihuahua mix who closely resembles the Disney character Bolt — minus the bolt but with his own version of the superbark. Xist will publish my third picture book, Stuffed Animal Dance Party!, in 2021.
In 2020, I began preparing for a new career in animal healing by resuming my animal Reiki studies with Kathleen Prasad of Animal Reiki Source® and Leah D'Ambrosio of the Shelter Animal Reiki Association in San Rafael CA. My articles on animal wellness have appeared in "Animal Wellness" and "Veterinary Technician" magazines and the Animal Reiki Source compilation "Tails from the Source."
In my spare time, I enjoy swimming and sketching, reading, weaving, cuddling with my pets, gardening, brushing up on my French, and playing Scottish fiddle and piano. I also enjoy photography.
My education and experience include:
Freelance writer, NuVet Labs®                                                      2009-2014
Preparation of online content and marketing materials on companion animal health.
Paralegal, Nixon Peabody LLP, Rochester, NY                      1987-2009
Extensive researching for, drafting, proofreading and editing of legal documents and correspondence from rough draft to final form. Managed firm's mortgage foreclosure practice.
 Volunteer writer, In Defense of Animals                                    2012

Development of travelers' advisory pages for Elephant Project website.
Publications
"Stuffed Animal Dance Party!" Xist Publishing; 2021.
"If a Dog Could Wear a Hat." Xist Publishing; 2018.
"There's a Dog on the Dining Room Table." Xist Publishing; 2014.
"Once in a Lifetime Dog." Animal Wellness magazine, June/July 2010.
"In Memory of Sunrise."  Tails From the Source, The Animal Reiki Source Newsletter Collection, Vol. 1, 2004-2005, Kathleen Prasad, ed.  Animal Reiki Source®.
Contributor, Veterinary Technician magazine.
Education
Animal Reiki Source® Academy; Level 1 Animal Reiki in the Let Animals Lead® method created by Kathleen Prasad of Animal Reiki Source®; 2021
Animal Reiki Source® Academy; The Power of Japanese Techniques on Animal Reiki, Animal Reiki Workshop, Core Curriculum, Let Animals Lead® method created by Kathleen Prasad of Animal Reiki Source®; 2020-2021
Shelter Animal Reiki Association; Animal Reiki for Reiki Practitioners; 2021
SUNY, Empire State College, Genesee Valley Center, Rochester, NY; B. S. in Political Science; 1996
Medaille College, Buffalo, NY; various Veterinary Technology courses; 2001-2003
Writers & Books, Rochester, NY; various writers' workshops
University of Rochester, Eastman Community Music School, Rochester, NY; violin studies
Private lessons: Dick Bolt, Rochester, NY; Scottish fiddle music; 2016-2020
Usui Reiki Training Levels I and II — Janice MacNamara, Reiki Master Teacher, Next Step Holistic; 2004
Usui Reiki Training Level III — James Best, III, Reiki Master Teacher; 2005