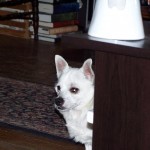 Simon and his brother Peabody (featured on my Reiki page) lived for many years with my husband and me and our rescue cats in an old, fixed-up city house, the kind with a nice, big front porch. They loved to explore our back yard and the park across the street and did everything together. They were inseparable. Simon, being bolder, would sometimes get into trouble. He closely resembled the Disney character Bolt, minus the thunderbolt, and even had his own super bark that he used — a lot. He is the subject of my book If a Dog Could Wear a Hat.
Simon and Peabody are deeply loved and dearly missed.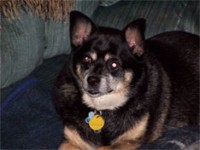 Barney was our beloved Shiba Inu who had a heart of gold, especially when it came to our feline family. He so enjoyed playing with our cats that he jumped up on top of our dining room table with them during a rousing game of chase. I wrote There's a Dog on the Dining Room Table as a love letter to his memory.
Barney is also the subject of my article Once in a Lifetime Dog. He is also deeply loved and dearly missed.