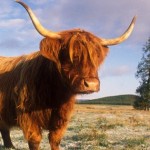 We finally got around to checking out our local public market last Saturday morning. Wow! Should have done it years ago. I've never seen such beautiful fruits and vegetables. I took my new Nikon D5300 along and shot some pics to get a feel for the thing and to attempt to capture the essence of the market experience. (Someday, when I figure out how to upload and add my photos to the blog, I'll share them. For now, you get to look at a web shot of an adorable Scottish coo, one of my favorite animals.)
People everywhere at 7:30 on a Saturday morning! (Usually I'm just getting out of bed at that hour.) So many local farmers and artisans displaying their wares — such a good vibe all around. A couple of street musicians played us through the market entrance and prepared food areas. Who knew folks would line up for spicy hot breakfast sandwiches at that hour?
We indulged in cafe mochas prepared by a local coffee shop. The coffee may not have been Starbucks but it sure was good! Maybe the ambiance helped add flavor to my drink. People seated at schoolhouse style bench tables and chairs decorated with small potted plants. Hardwood floors. Plenty of outdoor seating. Loved it!
Summer here is so fleeting. People pour out of doors when the weather turns warm. The public market, with its inexpensive — and local — wares and opportunity for community building offers an ideal place to soak up the summer sun. I enjoyed chatting with some of the vendors.
We left with bags bulging with fresh berries, radishes, green beans, locally harvested honey and maple syrup and are already discussing what we'll buy on our next visit. Both of us believe in supporting area growers and small business owners whenever we can. The public market is a great place to do both!